We are a nondenominational, evangelical church in Turner, Maine, with roots as deep as the town itself. We have an ancient faith that strives to follow in the footsteps of Jesus, even as we seek to live faithfully in our contemporary world.
Whether you have known Jesus your whole life or are still trying to figure out who he is and what Christianity is all about, you are welcome here!
We are located at 139 Main Street in Turner.
Service Times:
Sundays:
10:30 am – Church Service including children's church with nursery
12:00 pm – Fellowship

6:00 pm – Prayer Meeting

7:00 pm – Women's Bible Study
7:45 am – Staff / Business Meeting
9:00 am – Bible College Class (satellite)
10:30 am – Meet the Community
7:00 pm – Teen Group (no group on last Saturday of month)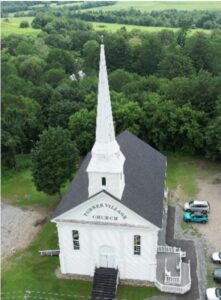 Disclaimer: an average 3% merchant fee is taken out of every online payment received.